Complimentary Consultation
Acne Scarring Treatment London
We understand that dealing with acne can be disheartening, and quite often a large number of people will unfortunately be left with some degree of scarring and pigmentation. We're here to help you regain confidence in your skin – based in the heart of London, we offer a range of acne scarring treatments that target all areas of concern, from surface scarring and inflammation to deeper, pitted scars and pigmentation.
We can help you to achieve a smoother, more even complexion by using dermal filler, laser skin resurfacing, laser facial rejuvenation and microneedling therapy, or a combination of treatment and our medical-grade London Real Skin products.
British Skin Foundation research shows that 95% of acne sufferers in the UK say that it affects their daily lives. Our Aesthetic Practitioners are here to recommend a course of treatment completely tailored to you – book a free consultation today.
Treatments from only  £250.
Benefits of acne scarring treatment 
Post treatment, the skin will be more hydrated, have a smoother, tighter texture and the scars will appear less visible.
Treatment options include popular advanced technological methods that are FDA approved and are clinically proven to treat acne scarring safely and effectively.
Can treat many areas including the face, back, neck and chest.
Results are visible either immediately or within 2 weeks of treatment, depending on the treatment option chosen, and are long lasting. 
Downtime is considered moderate to minimal, depending on the treatment procedure.
Suitable on all skin types.
All treatments are carried out by  Nurses and Aesthetic Practitioners who are highly skilled and experienced in treating acne scarring with a variety of different methods.
Acne Scarring Treatments
At London Real Skin, we provide a full range of acne treatments to reduce scarring and improve overall skin appearance on the face, chest and back. In some cases, a combination of different treatments is required.
The ideal treatment will depend on four main factors:
Skin type (skin type is classified according to the amount of pigment in the skin)

Type of scar (scars can be" rolling", "atrophic"," box car", "ice pick" or "anchored")

Downtime available (time it takes the skin to heal after the procedure)

Cost of the procedure
Administered by an Aesthetic Doctor, dermal filler is used to treat deeper, pitted acne scarring such as atrophic or rolling scars. Adding a small amount of hyaluronic filler just beneath the surface adds lift and reduces the appearance of scarring, which in turn helps to improve overall skin texture.
With minimal discomfort, minimal maintenance and almost immediate results, dermal filler can help you to regain confidence in your skin. Can be used in conjunction with other treatments.
Prices start from £450. For a full price breakdown and to enquire about a free consultation, click the button below.
We use a range of advanced laser technologies. Laser resurfacing targets deeper scarring by resurfacing the top layer of skin and stimulating collagen production – the protein in the skin that controls strength and elasticity – thus making visible improvements to scarring. 
Laser rejuvenation targets surface scarring, redness and inflammation, which helps to improve both skin texture and complexion. For optimal results a course of two to six laser treatments may be required.
Prices start from £250 per treatment. For a full price breakdown and to enquire about a free consultation, click the button below.
Micro-needling is a very effective needling therapy used to treat acne scarring on the face and body. SkinPen Precision is a medical-grade device, which targets the scarring by penetrating up to 3mm into the dermal layer of the skin.
The individual needles break down the scar tissue to stimulate the skin's natural collagen production to even out and improve the skin texture. This treatment is effective on almost all skin types and can be combined with dermal filler to achieve optimal results.
Prices start from £340 per full face treatment.  For a full price breakdown and enquire about a free consultation by clicking the button below.
Dermal Fillers
Dermal fillers are an effective and safe solution to replace lost volume in the face and support the softening of lines and wrinkles to restore a more youthful appearance. Dermal fillers are effective in treating multiple areas including the face, neck and hands, and well as treating skin concerns such as acne scarring. At London Real Skin our preferred fillers are hyaluronic acid fillers that are natural substances found in the body (Juvéderm and Restylane).
Laser Skin Treatments
We use Erbium Yag Laser to treat acne scarring. The laser produces energy in the mid-infrared invisible light spectrum. It can be used to precisely target skin and water-holding tissue, leaving the surrounding skin unharmed. This creates a controlled thermal injury or wound that leads to remodelling of collagen (the protein in the skin that controls skin strength and elasticity) thus making the scar less visible. 2 to 5 sessions may be required for optimal results. Learn more about our Laser Facial Rejuvenation treatments or Laser Skin Resurfacing.
Micro-Needling
Skin needling can be effective in the treatment of acne scars. Pen devices have largely replaced skin needling rollers. We utilise a medical grade device (Skin Pen Precision) to treat acne scarring. SkinPen microneedling, as the name suggests, delivers needles of varying depths (0.5 to 3 mm) into the dermal layers of the skin. Needling breaks down scar tissue and stimulates the formation of new collagen. This treatment is ideal for darker skin types, and can be combined with Dermal Fillers for optimal results. Learn more about our Skin Pen micro-needling treatment.
Before
After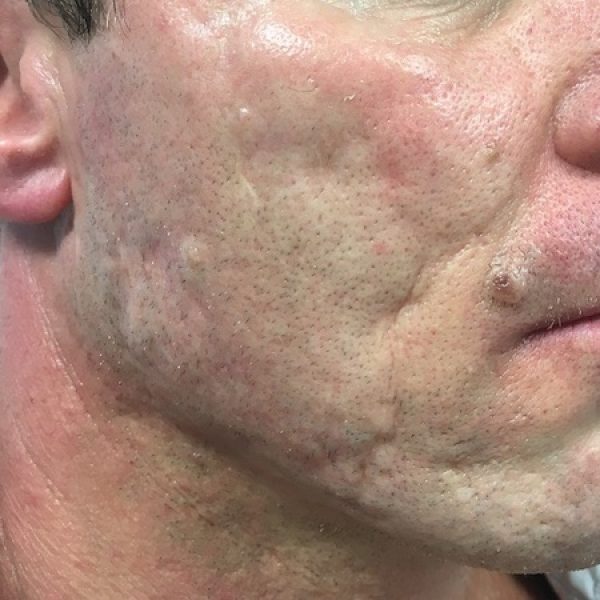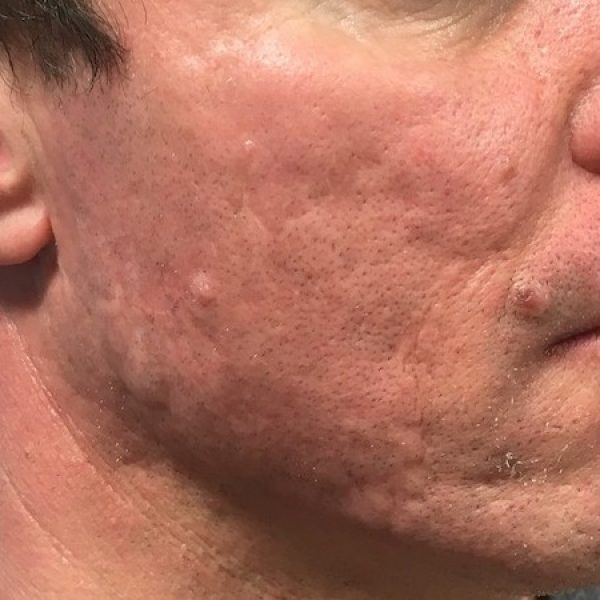 Before
After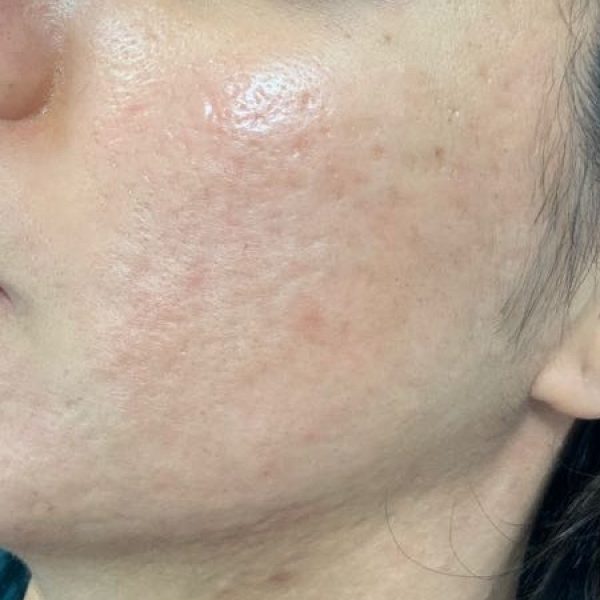 I have been coming to LRS for nearly 3 years to treat my cystic acne, now I have returned after trying several local dermatologists for my acne scars. I have 100% confidence I will get results once again.
Riya, 2021
Frequently Asked Questions