Non-Surgical


Rhinoplasty London
A Non-surgical nose job or Rhinoplasty can help to shape, correct or sculpt the tip of the nose and bridge, where surgery is not desired, to achieve symmetrical proportions and to enhance our patients' physical appearance and confidence.
Complimentary Consultation
Non-surgical Rhinoplasty in London
As of 2019, a Rhinoplasty, or a 'nose job' was regarded as one of the five most common cosmetic surgery procedures in the UK and accounted for roughly 10% of all cosmetic procedures. 
If, for whatever reason, you are unhappy with the size or shape of your nose, a rhinoplasty procedure is the most effective and safe solution and will be carried out by highly skilled Aesthetic Nurses and Doctors who deeply understand facial anatomy and are highly experienced in working with Dermal Fillers. 
The most common reason for seeking a non surgical rhinoplasty, is to either make the nose appear wider or alternatively smaller and slimmer, to simply smooth away unwanted lumps or bumps or to amplify the nose as a prominent facial feature. However, the procedure can also assist in correcting breathing issues, treat sleep apnoea and snoring, as well as to treat those who have suffered injuries to the nose, very often resulting in nasal fractures. 
The non-surgical nose job involves a precise series of injections of hyaluronic filler, which provides natural-looking results. A delicate balance is required when sculpting the nose which requires skill, experience and surgical finesse. Our expert practitioners work closely with our patients to deeply understand their needs and achieve their goals.
Benefits of Rhinoplasty
Our Dermal Filler are administered quickly & offer immediate results with little to no downtime. 

Our Dermal Filler brands are FDA approved with excellent clinical data supporting their use and effectiveness. 

Hyaluronic acid injections are temporary and completely reversible. If for any reason, you are not completely satisfied with the results, your Aesthetic practitioner will advise you and can inject an antidote to dissolve the unwanted filler, restoring you to your natural appearance.

All dermal filler treatments are administered by highly skilled Nurses and Doctors who are trained in facial anatomy and have years of experience carrying out non surgical rhinoplasty treatments. 

The results are noticeable and yet appear natural-looking and subtle, resulting in facial harmony 

The effects of the filler last from 6 months to 2 years depending on the type and concentration of the filler used. 

Dermal filler injections are non-surgical and are typically carried out during a clinic visit. 

Our patients consider the treatment as generally painless, only experiencing a mild level of discomfort 

A complimentary in-depth skin scanning analysis will be carried out prior to having a treatment done to be able to discuss your treatment goals and advise a bespoke treatment plan.
Treatment at a Glance
Duration
30 Minutes
Frequency 
1 treatment every 6-12 months 
Downtime
Minimal 
Results
Immediate
Suitable For
Most Skin Types
Treatment Price
Starts from £375 for the first syringe
Non-Surgical Rhinoplasty Pricing
Cheek Enhancement

From £550

Non-Surgical Rhinoplasty

From £550

Lip Enhancement

From £375

Chin Enhancement

From £550

Jaw Enhancement

From £1050

Nasiolabial Lines

From £450

Marianette Lines

From £450

Non-Surgical 8 Point Face Lift

From £1550

Horizontal Neck Line

From £450
Non-Surgical Rhinoplasty Before & After
Before
After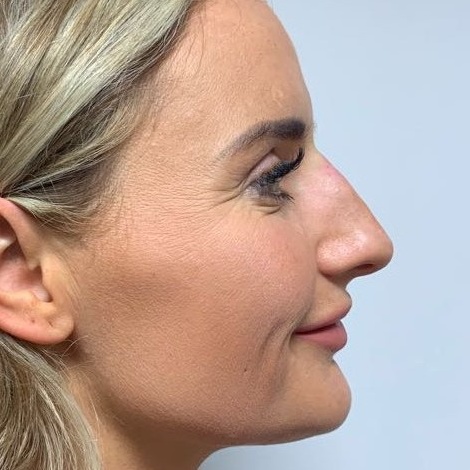 Before
After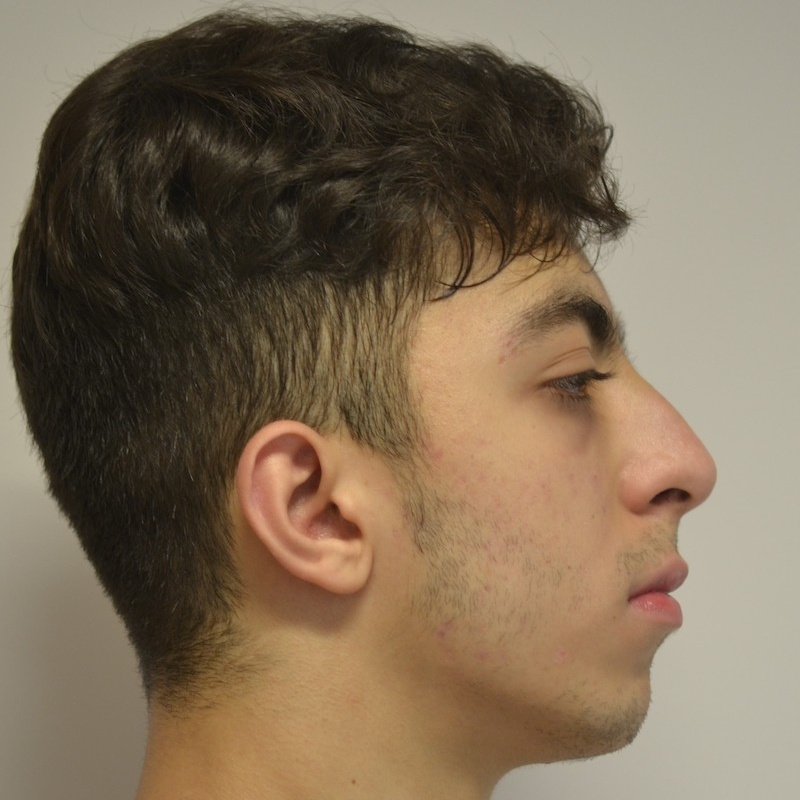 Before
After
I have had an amazing experience with BTX, fillers for cheek enhancement, and IPL laser for pigmentation on my face. I would highly recommend.
- Victoria, patient feedback
Non-Surgical Rhinoplasty FAQ