The colour of your skin and hair is determined by the amount of melanin, which is naturally produced by pigment cells (melanocytes) at the base of the epidermis. Hyperpigmentation is where patches of skin become darker in color than the surrounding skin.
Complimentary Consultation
What is pigmentation of the skin?
Hypopigmentation is where there is a loss of skin colour in patches of the skin. Melasma is a patchy brown discoloration that occurs on sun-exposed areas of the face in darker skin types. It affects the deeper layer of skin (the dermis), and can be difficult to treat.
Vitiligo is a condition where patches of skin appear white due to loss of pigmentation. Melasma and vitiligo are conditions which should be diagnosed and treated by a Dermatologist. Uneven pigmentation of the skin can respond to aesthetic treatments.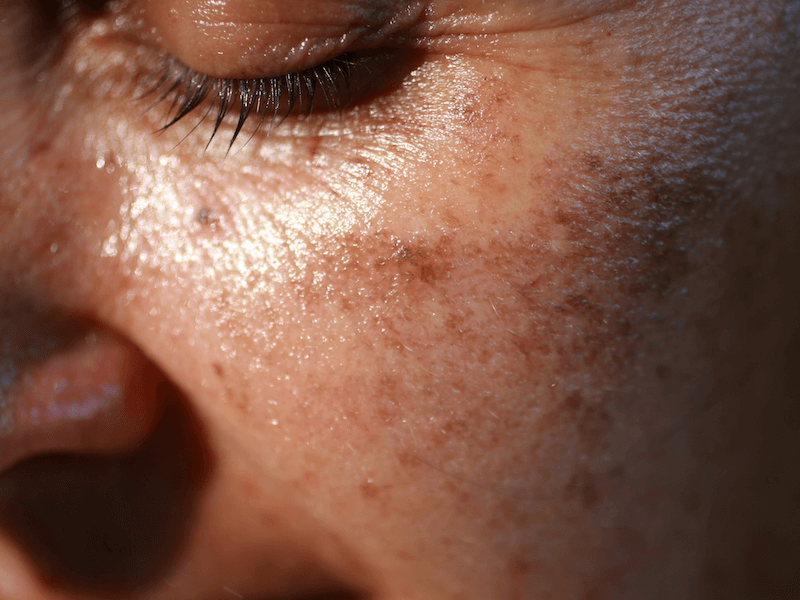 Causes of skin pigmentation issues
It is natural for us to have uneven pigmentation in our skin and this can be exacerbated by sun exposure. Hormonal effects of oestrogen during pregnancy, or due to the contraceptive pill can cause melasma leading to pigmentation of nipples, vulva and abdomen (linea nigra). Some skin diseases and conditions can also result in different types of pigmentation.
Signs of skin pigmentation issues
Pigmentation issues are identified by either variation or uneven pigmentation of the skin, darker patches of pigmentation in the skin, lighter patches of pigmentation in the skin, or an absence of pigmentation in the skin. These can be localised (in one particular part of the face or body) or generalised (all over the face and body).
What treatment is available for skin pigmentation issues?
Where there is an absence of pigmentation in the skin, or the pigmentation issues are widespread or severe you should see a Dermatologist for an accurate diagnosis and medical treatment.
Aesthetic treatments can be effective in evening out and addressing minor pigmentation issues:
A personalised skincare regime which includes medical-grade skincare products can help even out pigmentation of the skin. This may include prescription medications. The Obagi Nu-derm system is an effective 12 week program for addressing pigmentation issues. Prevention is better than cure and so any skincare regime will include daily use of a sunblock (minimum of SPF50+).
A chemical peel containing salicylic acid and glycolic acid can significantly improve the skin's appearance. When used with topical therapies this can be very effective, especially to treat conditions in darker skin individuals such as melasma. The Obagi Blue Peel Radiance Chemical Peel is a non-invasive, gentle chemical facial peel that uses a combination of salicylic, lactic and glycolic acids to improve skin's appearance without any recovery time.
Laser treatment can be effective used on its own or in conjunction with chemical peels and a personalised skin care regime to even out pigmentation and reduce darker patches of pigmentation in the skin (such as age spots).
We utilise leading technology to safely and effectively treat a variety of different skin concerns.
This clinic is so nice. They explained everything very clear and never felt any pressure or anxious feelings. All the staff were very polite.
N Matos, 2022
Before
After