Rosacea Treatment in London
At London Real Skin, we use the advanced Harmony Dye-VL or AFT laser technology to treat facial redness, flushing and thread veins leaving our patients feeling self-confident and assured. Such technology can to dramatically reduce skin reddening that is often difficult to camouflage with superficial products. The Dye-VL technology can also treat acne scarring and improve skin texture.
Rosacea Treatment London
Rosacea affects around one in 10 people to some extent, and mostly people with fair skin.
Rosacea and facial flushing are common and long-term skin conditions that mainly affects a person's face's. When rosacea first appears, the face appear flushed. Later symptoms include permanent redness, spots, visible blood vessels and a sensation of burning or tingling.
The cause of rosacea is not known, although there are several different theories. Whilst no-one knows definitely what causes rosacea, some circumstances and conditions can trigger the condition.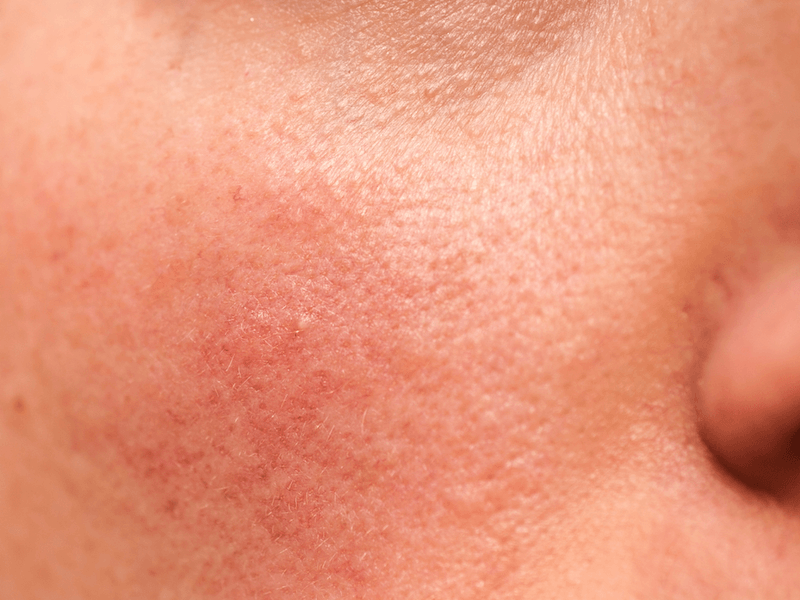 Benefits of Rosacea Treatment
The treatment provides a significant reduction of the redness as well as the flushing episodes.
We can treat a variety of skin concerns such a facial redness and flushing, and vascular conditions such as thread veins on the face (small fine red veins also called telangiectasia) and small birthmarks. 
The treatment is quick and there is minimal downtime

 so patients are able resume their normal activities immediately after.The skin may however appear red for a few hours after, but it can be easily covered with makeup, preferably mineral.

Results are visible within a week of treatment
Multiple Clinical studies have been carried out proving the efficacy of the treatment
Treatment is carried out by highly skilled and experienced Aesthetic Practitioners
We are CQC-approved for all laser treatments
Treatment at a Glance
Duration 
30 min
Frequency 
3-6 Treatments every 2-3 weeks
Downtime
Minimal
Conditions Treated
Rosacea
Facial redness
Facial flushing
Thread veins
Broken capillaries
Acne scarring
Results Visible
After one week
Pricing
Starts from £250
I have been doing Dye VL treatment with Naomi for a few months now and I cannot fault her or the treatment. I started with a free consultation where I told Naomi my main concerns. She listened to everything carefully recommended treatments and products based on these concerns. I've not finished my Dye VL treatment yet, but my skin already looks and feels rejuvenated. And thanks to the products recommended by Naomi my skin is a lot less dry and finally (mostly) spot free. Thanks 🙂
Rosacea Treatment Before & After
Before
After
During the skin consultation, one of highly-skilled Aesthetic Practitioners will examine your skin. They will be able to determine if you are suitable for this procedure. If so, photos will be taken prior to the procedure.
During treatment, the skin will be cleansed with an antiseptic solution and a cool gel will be applied onto the skin. The practitioner will then commence with the treatment. Patients have reported a warm sharp sensation to the skin but that it is generally painless. 
Photos will be taken after the procedure too so as to allow the practitioner to compare the results and monitor your progress. 
3-6 treatments are required every 2-3 weeks.
The following aftercare is recommended to improve the treatment results and to minimise side-effects from the treatment:
The application of a cool pack during the first few hours after treatment will reduce any discomfort.
Apply only Biafine or aloe vera gel (without alcohol) to the treated area
Makeup may be used immediately after the treatment unless there is epidermal blistering. (Preferably mineral make up)
Avoid sun exposure to reduce the chance of hyperpigmentation or darker pigmentation. Use sunscreen SPF50+ or greater at all times throughout the course of treatment.
Avoid swimming until the treated area is fully healed
Avoid hot baths, heat treatments and exercise for the first 48 hours
Avoid picking scabs
Avoid using retinoids for 2 days before treatment and 7 days post treatment
Immediately after treatment, there may be redness and swelling at the treatment area, this may feel like mild sunburn. If pigment is present, it will become darker and form a scab that will eventually shed away. This is a normal effect of treatment. Swelling may also occur, especially on the cheek area, but will reduce over the course of a few days.
We recommend sleeping with an extra pillow to decrease swelling.
Pregnant or breast-feeding

Patients with sunburn

Patients suffering from melasma, seizure disorders, herpes simplex virus, hyperpigmentation, history of photosensitivity to light

Patients on topical or oral steroids, medications that cause photosensitivity