Skin Consultation


In London
At London Real Skin we offer complimentary skin consultations that offer a detailed assessment and analysis of your skin. Our assessments are comprehensive and allow us to tailor a bespoke skincare regime and treatments plan that will be most suitable for you and your skin concerns and goals.
Complimentary Consultation
aesthetic skin consultation in london
During a skin consultation, our highly skilled and experienced Aesthetic Practitioners will carry out a skin scanning analysis using the Observ 520 ®. This modern technology is safe, proven and effective and provides our patients with a visual understanding of the deeper layers of their skin.
We are committed to utilising the industry's leading technology to reveal and target skin concerns before you can even see them. Many skin concerns start deep under the surface which makes them difficult to be assess with the human eye. This is why we use the Observ at the start of your journey with us and throughout your treatment course to monitor your results.
All patients who have received a recommended treatment or product plan are eligible for one 30-minute free review appointment with their Aesthetic Practitioner. If additional reviews are required to discuss your concerns or results, a £25 fee per review will apply.
What to expect during a Skin Consultation
Our Aesthetic Practitioners will carry out an Observ ® 520 Skin Scanning Analysis of the deeper layers of your skin.

Photographs will be taken to track and monitor your results.

A bespoke treatment and skincare product plan will be provided to suit your skin needs. 

The cost of the treatment plan will be advised

A patch test, where required, will be carried out.

We will answer any questions you may have and provide further information on the treatment.

Your medical history will be checked and you will be required to sign the patient consent forms. 
The Observ Device
The Observ device is a breakthrough skin analysis technique during which the skin is observed when exposed to patented skin fluorescence and polarised light illumination technology. 
Observ gives our team the flexibility to switch between different analysis modes. We can gather clear data quickly, and safely help uncover a variety of skin concerns and conditions such as:
Clogged pores

Dehydrated skin

Rosacea

Loss of collagen

Hyperpigmentation

Vascular conditions & diminished circulation

Wrinkle formations & fine line patterns

Thinned, dry and sensitive skin.
With this innovative solution, you do not have to wait for skin conditions to reveal themselves. You can take action now to keep your skin looking and feeling its best.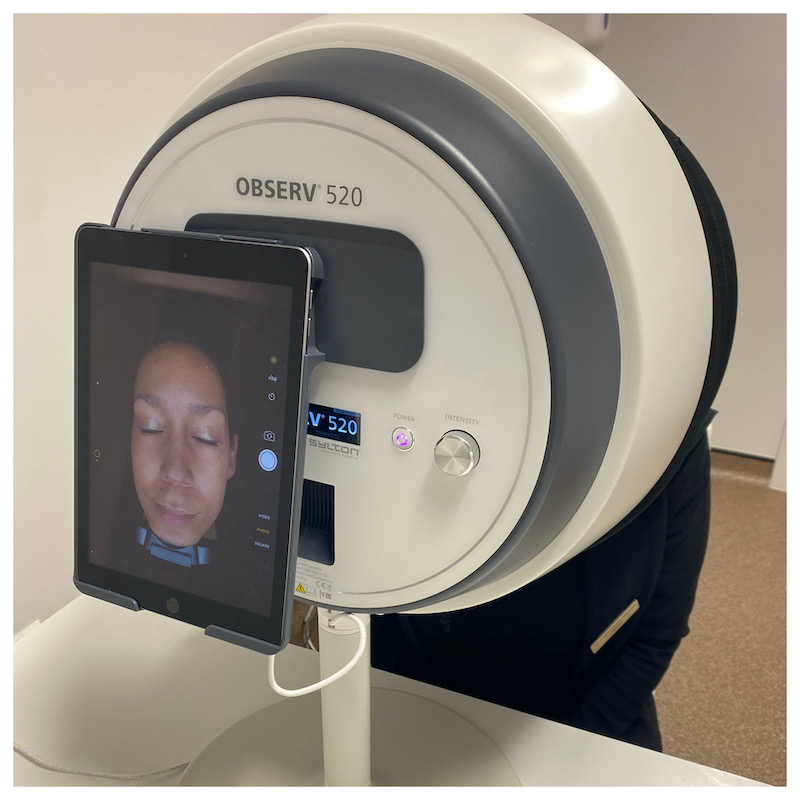 After the Observ Analysis
Following the observ 520 analysis, photographs will be taken on the Ipad, following your consent, to monitor your progress and results. 
A personalised skincare plan will be recommended based on your skin type and problem areas. Within this plan, Dermatologist- led skincare products will be recommended which may include prescription products. We recommend skincare products with clinically proven ingredients from our own product line, London Real Skin created by Dermatologist Dr Wade, and brands including Obagi . Your practitioner will explain how these are used, including special precare instructions if you are having an aesthetic or laser treatment.
At London Real Skin, we pride ourselves on delivering real treatments with real results. Our videos and photography are original and not enhanced in any way as we like to offer a true reflection of what a treatment is likely to deliver. Treatment results may vary from person to person depending on skin types & other factors.

If you are suffering from a dermatology medical condition it may be necessary to refer you to a dermatologist at the London Skin and Hair Clinic in order to address the underlying condition.
I had my first Lip Filler done at London Real Skin and I am happy and very pleased. The team and Especially Dr. Kent were very professional made me feel calm and relaxed throughout the treatment and provided great care afterwards. I am looking forward to coming back to the clinic.
Romana, 2022