Anti Wrinkle


Injections London
We offer anti-wrinkle injections for those who want to achieve beautifully natural skin by preventing or reducing signs of ageing. Our Practitioners use the highest quality products, treating in a CQC-regulated, Central London clinic.
Anti-wrinkle injections are a simple, non-surgical treatment that can temporarily improve the appearance of fine lines and wrinkles. Our Aesthetic Doctors and Nurses are experts in facial anatomy and are highly experienced in delivering natural-looking results.
Complimentary Consultation
Anti-wrinkle Treatment In London
Anti-wrinkle injections are extremely effective in treating all areas of the face including crow's feet, forehead lines, frown lines and the gummy smile to reduce the signs of ageing or to balance facial proportions. Anti-wrinkle injections are a technique-sensitive treatment, which requires a deep understanding and knowledge of facial anatomy and muscle movement carried out by trained medical professionals.
They are also highly effective in treating other medical concerns such as Bruxism (teeth grinding), Hyperhidrosis (excessive sweating) and chronic headaches (migraines).
Why Choose US

?
Our clinic is CQC-regulated which ensures high-level patient safety, hygiene and Practitioner qualifications so you can rest assured you are in safe hands

We are an inclusive clinic and have an extremely welcoming team who welcome people from all walks of life for treatment with us

Our clinic is dermatology-led and our Aesthetic Doctors and Nurses have decades of experience practising Aesthetic Medicine

We have a very loyal patient base with a high patient return and satisfaction

We pride ourselves on providing the best possible service, treatment and follow-up aftercare, which includes a complimentary consultation and a complimentary post-treatment review

We are based in an easily-accessible Central London location, under a minutes' walk from Holborn Underground Station and are based in a discreet building
Treatment at a Glance
Duration 
15-30 mins
Frequency 
1 every 3-6 months
Downtime
Minimal
Areas treated
Forehead lines
Frown lines
Bunny lines
Eyebrow area
Crow's feet
Chin dimpling
Lip Flip
Jaw reduction
Non-surgical facelift
Nasolabial lines
Crows feet
Perioral lines
Marionette and glabellar lines
Hyperhidrosis
Bruxism
Migraines
Results Visible
After 2 weeks
Pricing
Price starts from £240 for one area
WHAT SKIN CONCERNS AND CONDITIONS CAN BE TREATED WITH ANTI-WRINKLE INJECTIONS?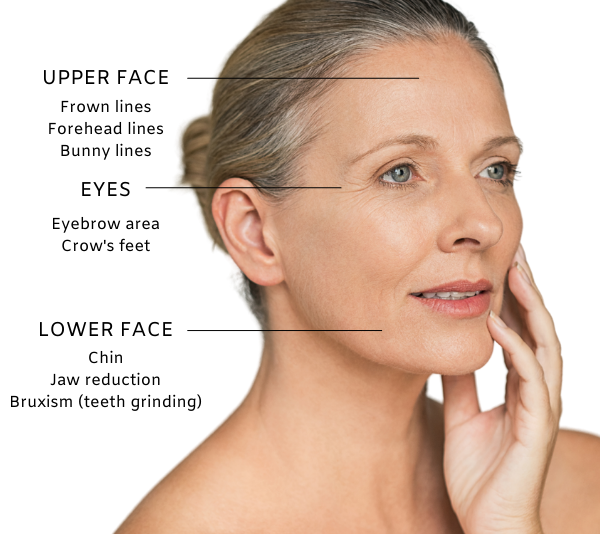 Benefits of anti-wrinkle injections
Rapid results that are sometimes visible within 24 to 48 hours and are expected to last for 3-4 months

Achieve natural looking, subtle results for a youthful appearance that will leave you feeling confident and happy

Alternative treatment to surgical cosmetic procedures

Targets the underlying cause by working to minimise muscle movement, achieving temporary but noticeable results

There is no downtime and minimal side effects. Some patients may experience a little redness, which should resolve within 15-20 minutes, or bruising and a minor headache, which can be easily treated with pain relief medication

Treatment is quick and simple to carry out when in the hands of an experienced practitioner

Can treat medical conditions: Hyperhidrosis, Bruxism, migraines
Your anti-wrinkle injection Consultation
A complimentary consultation will be carried out prior to having the treatment done to check your suitability, and allow for your Aesthetic Doctor to better understand your skin concerns. This will allow them to provide a bespoke treatment plan for you. Post treatment, a complimentary aesthetic review is provided to monitor and assess your results after two weeks. During this appointment any required top-ups can also be administered.
What Causes the Tell-Tale Signs of Aging?
As we age, collagen that is found naturally in the skin begins to deplete. This along with environmental factors such as free radicals and sun exposure causes the skin to lose elasticity and this results in the appearance of fine lines and wrinkles. Genetics, diet and lifestyle factors (alcohol, stress, smoking) can also impact the speed in which this process occurs.
The muscles in the face naturally contract and expand to form expressions, and while it's a completely natural process, it is one that will cause frown lines and crow's feet to develop over time. For instance, continuous frowning and raising of the eyebrows can cause lines to develop in between the two brows, whilst squinting and laughing causes the muscles around the eyes to contract, resulting in what you may know to be called crow's feet.
The Solution – Anti-Wrinkle Injections
Anti-wrinkle injections are a prescription-only medicine (POM), which is injected into the skin to block nerve signals and reduce muscle movement on a temporary basis. This relaxes the muscles, which can reduce and soften wrinkles and fine lines. This treatment is one of the most extensively studied medical aesthetic treatments and is approved for cosmetic use in 78 countries as the safety and efficacy has been clinically proven.
Anti-Wrinkle Injections Before & After
Before
After
Before
After
Dr Kent was amazing!! Friendly, knowledgeable and made me feel very comfortable, especially as I had never had fillers before! And the underarm BTX was a gift from God - I haven't sweated since! Thank you Dr Kent! I will be back!
Meeks T
Anti-Wrinkle Injections FAQ