Hydrafacial uses patented technology to cleanse, extract, and hydrate. Hydrafacial uses super-serums that are made with nourishing ingredients that result in a satisfying skin glow.
Complimentary Consultation
What sets this process apart?
Hydrafacial utilises a unique and patented Vortex-Fusion delivery system to exfoliate, extract and hydrate your skin. The spiral design delivers painless extractions.
WHAT IS VORTEX-FUSION TECHNOLOGY?
The spiral design of the technology used along with the Hydrafacial proprietary vacuum and serums creates a vortex that easily removes impurities while also delivering hydrating skin solutions.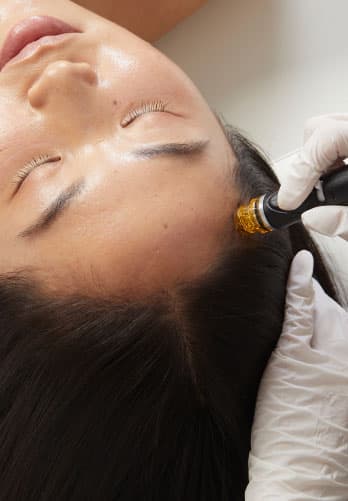 Hydrafacial Process
Detox
Start with lymphatic drainage to improve circulation in the lymph system and assists in removing toxins.
Cleanse & Peel
Uncover a new layer of skin with an exfoliation process and gentle resurfacing.
EXTRACT & HYDRATE
Removal of debris from skin pores through gentle suction, followed by nourishment with moisturisers.
FUSE & PROTECT
Saturating the surface of your skin with antioxidants and peptides to maximise your skin's glow.
REJUVENATION
Finish off with red and infrared LED light to minimise redness and stimulate collagen to support the natural production of vitamin D.
What ingredients are used?
The HydraFacial treatment utilizes cutting-edge, patented vortex technology to thoroughly purify the skin and efficiently administer nourishing botanical ingredients. These botanicals include nutrients like hyaluronic acid, horse chestnut seed extract, red algae extract, zinc, and magnesium peptides. Additionally, the HydraFacial treatment delivers potent antioxidants that can counteract the detrimental effects of free radicals, including those caused by pollution, sun exposure, and stress, which may accelerate the aging process.
Pricing
Signature HydraFacial
£175 single
£900 course of 6
Platinum Hydrafacial
£200 single
£995 course of 6
This Clinic is professional and knows exactly what is best for your skin. I have had a series of 2 treatments which have worked brilliantly. Before I had spent £1000s on other treatments but these treatments have been more effective and professionally executed.
Virginia