medical grade skin peel


in london
At London Real Skin we offer three types of skin rejuvenation peels- NeoStrata glycolic peels, NeoStrata Clarifying peels and the Obagi Blue Peel Radiance.
A medical-grade skin peel helps to improves the appearance of the skin on the face, neck, décolletage and hands. 
Complimentary Consultation
skin rejuvenation treatment in london
A medical-grade skin peel is a safe and effective treatment that targets pigmentation, fine lines and wrinkles, uneven skin tone, and a lacklustre, dull complexion. 
A chemical solution is applied to exfoliate the top layer of the skin stimulating in the production of elastin and collagen resulting in a fresher and brighter, youthful-looking appearance.
We offer a variety of skin peels, which will depend on your skin type and your skincare goals.
Benefits of Medical-grade Skin Peels
Skin peels provide long-lasting results all over the treated area, improving the appearance of fine lines and wrinkles, pigmentation and rosacea, moderate photodamage, superficial acne scars, and uneven skin tones. 
Only the best skincare products are used for the medical-grade skin peeks, where were handselected by our medical director and consultant Dermatologist Dr Wade.
You will see an immediate result of rejuvenated, brighter skin following a skin peel. For best results we recommend a course of six skin peels. Results will vary depending on the individual, but can last for up to six months. 
The treatment duration is quick. There is no downtime, and results are visible within 2 weeks 
Suitable on all skin types. 
Effective on all body parts including, face, neck and decolletage 
All treatments are carried out by highly skilled Nurses and Aesthetic Practitioners who are experienced in carrying out medical-grade skin peels with both the Obagi and Neostrata products.
Treatment at a Glance
Duration 
30 minutes per session
Frequency 
3-6 treatments every 4 weeks
Downtime
Minimal
Skin Concerns Treated/Results Visible
Dull complexion
Rough and uneven texture
Dry skin
Fine lines/wrinkles
Crepey Skin
Acne Scarring
Enlarged pores
Pigmentation
Types of Skin Peels
Obagi Blue Peel Radiance Skin Peel
The Obagi Blue Peel Radiance Skin Peel is a non-invasive, gentle chemical facial peel designed to improve skin appearance without any down time.
Using a combination of salicylic, lactic and glycolic acids applied to the face, neck, décolletage or hands this Obagi peel can help the skin appear tighter, smoother and healthier-looking.
The peel will improve skin tone and texture helping to minimise skin ageing by targeting fine lines, photo damage and reducing pores.
NeoStrata Clarifying Peel
The NeoStrata Clarifying Peel is a combination of 30% mandelic acid and citric acid and is suitable for oily and acne-prone skin.
NeoStrata Glycolic Peels
The NeoStrata Glycolic Peels contain 20%, 35% or 50% glycolic acid and is designed for patients with multiple skin concerns including rough texture, fine lines, wrinkles, dry skin and irregular skin pigmentation. Higher strengths can also help to reduce the appearance of acne scarring and certain pigmentation skin concerns.
Our experienced aesthetic practitioners will be able to advise which medical-grade skin peel will be most suitable for you. Our skin peels use medical-grade strength ingredients and are supported by clinical evidence to prove their efficacy.
What is involved in having a Medical-grade Skin Peel?
During your initial consultation, one of our experienced Aesthetic Practitioners will assess your skin type, skin concern and medical history, before discussing your skin goals and recommending a suitable treatment plan, tailored to you. 
They will advise on the most suitable skin peel or combination of peels, number of treatments, time between each treatment, and what follow-up skincare regime will provide you with optimum results. At the end of the consultation, a test patch may be conducted to rule out any adverse reactions. Your safety is always of the utmost important to us. 
The Aesthetic Practitioner may then recommend some skincare products for you to use at home, to prepare your skin for the peel to ensure the best results.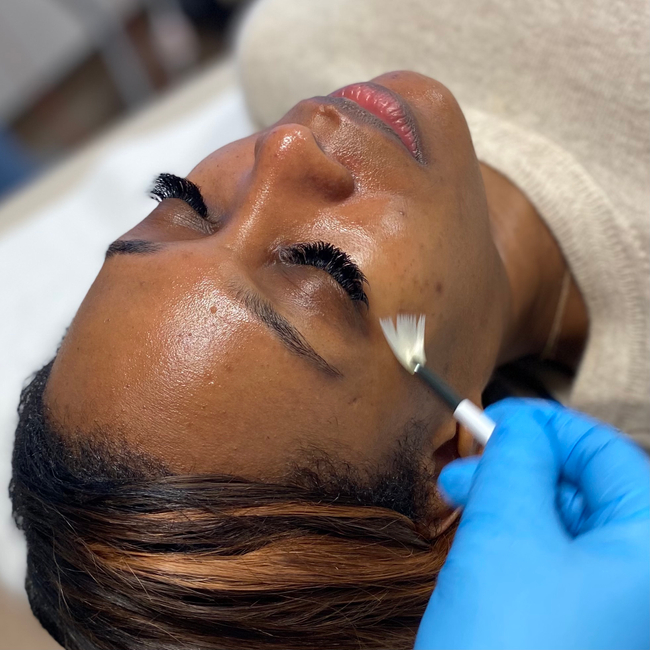 I booked an appointment at London Real Skin as an attempt at clearing up my spots after struggling with redness, bruising and blackheads, I felt self-conscious about my problem but during the consultation I felt instantly comfortable as well as throughout the treatment. Aside from the incredibly thorough treatment, the experience of the place as a whole, I would recommend it to anyone. I went straight home after the treatment and my family noticed instantly my glowing complexion. Thank you.
Fadumo, 2022
Medical Grade Skin Peel FAQ
During your treatment, the Aesthetic Practitioner will cleanse your skin and prepare it for the chemical peel with a pre-treatment. They will then apply the peel and leave it on the skin for a period of time.
A neutralising agent is normally applied at this point to prevent any further exfoliation or reaction to the skin. The Practitioner will then remove all of the peel active ingredients and normally apply a moisturiser and sunblock prior to you leaving. Treatment time will last for 30-45 minutes.
During the treatment, you may feel a slight heat or tingling sensation, but this is completely normal, and will eventually subside. There is no downtime or recovery period associated with the treatment, so you can return to your normal routine immediately following a chemical peel.
Some patients report some minor skin peeling in the two to five days following treatment, which is perfectly normal, after which tangible results will be visible. For the best results, we recommend sessions of  3-6  treatments carried out every two to four weeks.
The following aftercare is recommended to improve the treatment results and to minimise side-effects from the treatment:
You may gently apply mineral make-up post treatment, or apply your normal makeup once any redness has calmed.
A cold compress will soothe the skin, and in extreme cases an antihistamine from your pharmacy may help.
Avoid direct sun exposure for at least 7 days and use sunscreen SPF50+ at all time during the course of treatment
Avoid hot water and saunas for 7 days post treatment.
Avoid exfoliation and skincare products including acids or retinoids for 7 days pre-treatment and post treatment
Refrain from exfoliation and do not pick at peeling skin. The dead skin will naturally slough off
Avoid skincare products that contain alpha- and beta-hydroxy acid products, retinoids, retinols and skincare products that contain fragrance for seven days before and after treatment.
Skin peels are an ideal choice for anyone wanting to improve the appearance of their skin, and because we offer a range of chemical peels at London Real Skin we are able to help patients target specific concerns and achieve a number of skin goals.
Whether you want to treat a specific skin issue or just want to rejuvenate your skin to achieve a more youthful appearance, a chemical peel is a safe and effective way to do just that.